Tutorial Sebelum Menggunakan Email Hosting di Cpanel
Halo Sob! Sebagai pengguna layanan Jagoan Hosting, salah satu yang Kamu bisa optimalkan adalah Email Hosting. Nantinya Email Hosting bisa berguna buat Kamu untuk melakukan broadcast yang lebih profesional, seperti info promo, informasi produk, maupun maintenance dan tagihan.
Sebelum Kamu menggunakan layanan email yang ada di CPanel, Ada beberapa hal yang harus anda lakukan, yaitu :
---
Memastikan Setting MX
STEP 1: Silahkan kamu Login cPanel lewat Member Area JagoanHosting
---
STEP 2: Setelah itu pada menu Domains, pilih Zone Editor untuk mulai melakukan setting MX

---
STEP 3: Kalo udah masuk halaman Zone Editor, silahkan kamu klik pada MX Record pada domain yang kamu pilih sesuai petunjuk pada gambar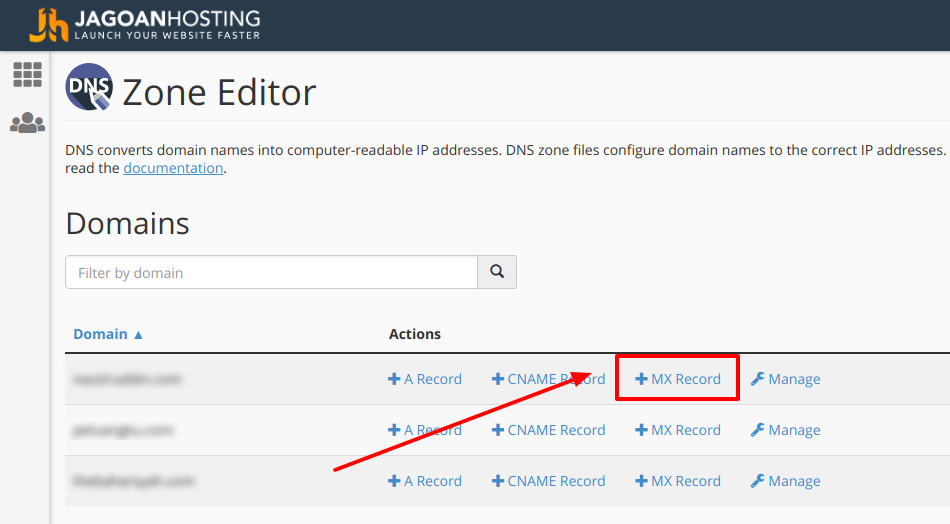 ---
STEP 4: Pada bagian ini jika kamu ingin menambah MX Record, Pada bagian "Add a New Record" isi bagian Priority dengan angka( semakin kecil angkanya maka prioritasnya semakin tinggi - Prioritas tertinggi adalah 0), lalu pada bagian destination isikan domain Kamu.
---
STEP 4 : Jika ingin mengedit pada MX record yang sudah ada, maka pada bagian Zone Editor, Kamu pilih menu Manage

---
STEP 5: Setelah itu, klik pada menu MX, dan lakukan konfigurasi sesuai petunjuk di atas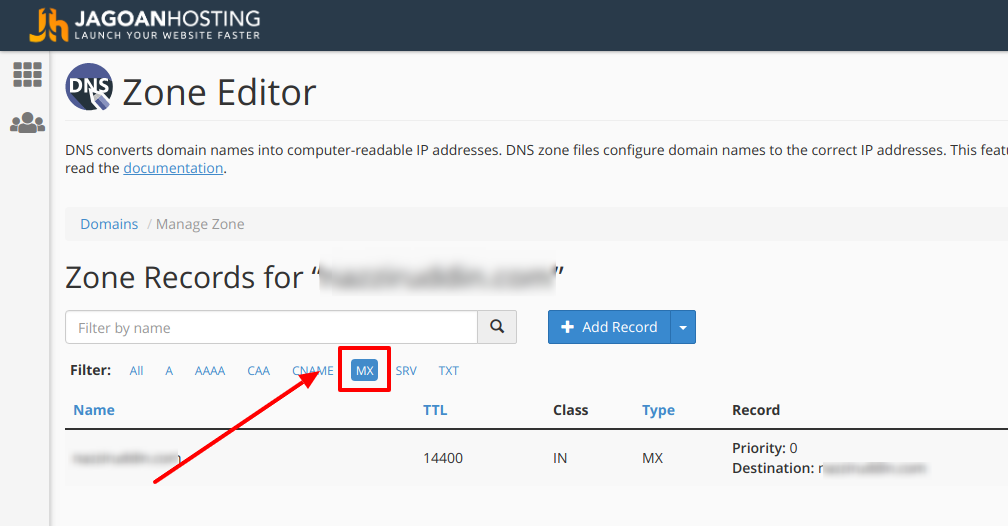 ---
Membuat Encryption
---
Kamu dapat membuat public key melalui fasilitas ini. Server yang memakai publik key akan melakukan enkripsi kepada email yang keluar. Hanya penerima yang punya private key saja yang bisa melakukan dekripsi pesan itu.
---
STEP 1: Pilih menu Email Deliverability pada halaman depan cPanel

---
STEP 2: Pada halaman Email Deliverability, selanjutnnya kamu klik MANAGE sesuai petunjuk pada gambar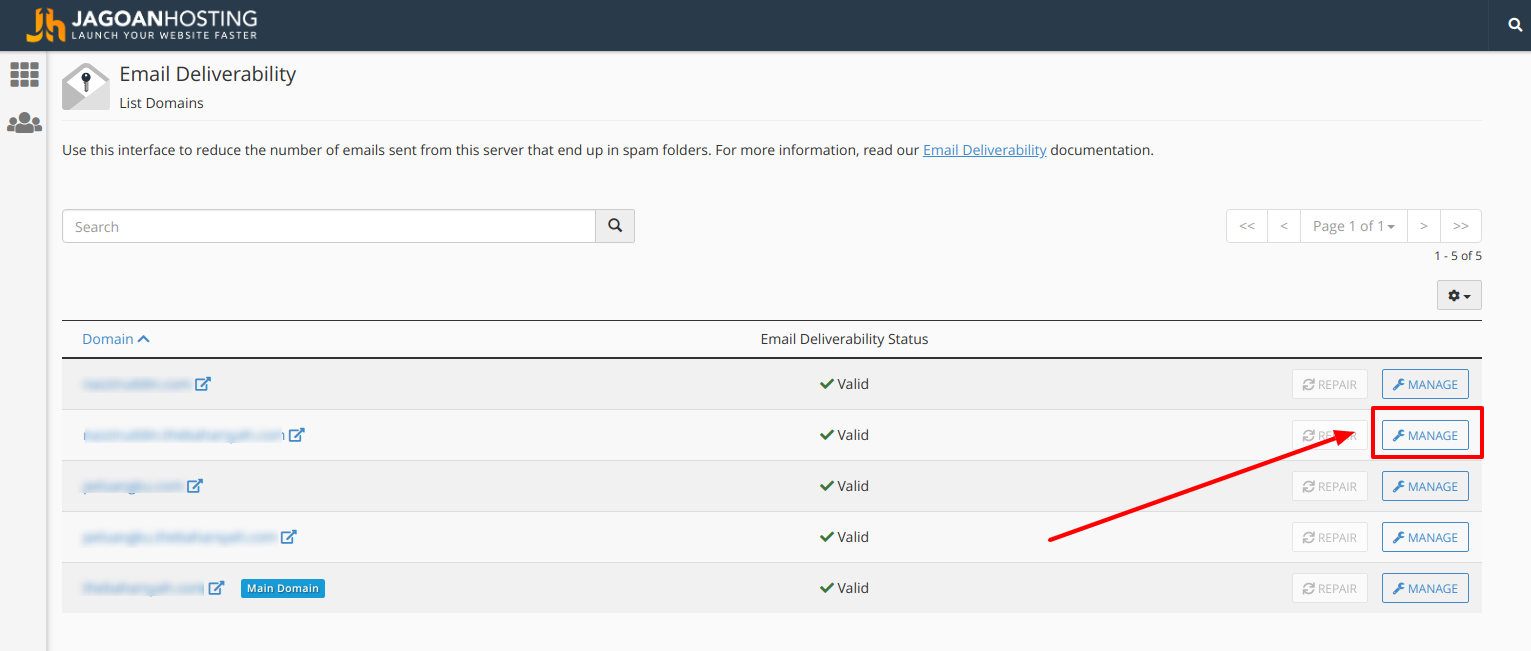 ---
STEP 3: Nah setelah itu akan ada konfigurasi DKIM dan SPF, untuk melihat Private key, kamu bisa klik "VIEW THE PRIVATE DKIM KEY" sesuai petunjuk pada gambar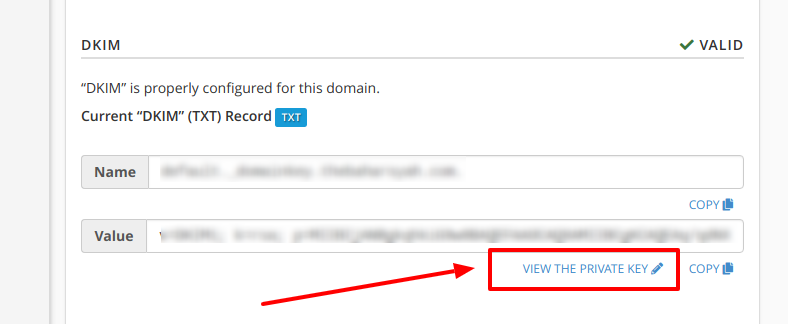 ---
STEP 4 : Terakhir kamu bisa klik button View The Private Key untuk melihat private key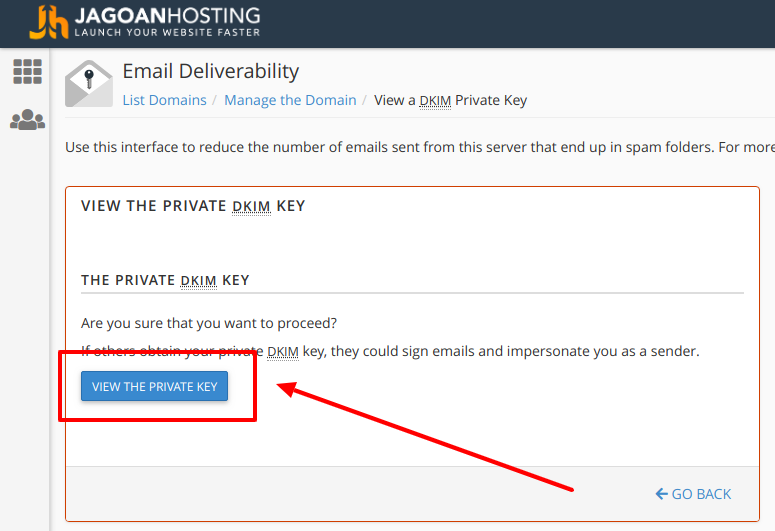 ---
Oh iya Sob, Layanan authentication ini bisa diaktifkan karena dapat memverifkasi email yang dikirim berasal dari pengirim yang terpercaya (bukan spam).
Nah, Kalau masih kesulitan Kamu bisa hubungi teman-teman Jagoan Hosting untuk informasi lewat Live Chat dan Open Ticket. Yuk Ah!